WELCOME TO SAMURAI KARATE
Samurai Karate is a traditional Martial art well designed to meet the needs of our modern world. From a solid foundation springs a wealth of physical, & mental abilities, that will serve you and your child throughout their life!
YOUR INVITATION
Laverton DOJO
Welcome to our club
Samurai Karate Laverton offers classes for all ages and abilities & our training will support personal development in a safe, positive and rewarding environment. Build confidence, self esteem, discipline & fitness whilst learning a martial art.
OUR
CLASSES
Our family owned & operated club is led by 4th Dan Jun Shidoin instructor Simon Hunt, who has over 20 years in martial arts experience and continues to build on skills and knowledge being an active practitioner of karate. Together with wife Georgia and two adult children Ellen & Jai, we have been providing martial arts training to our local communities including Laverton, Altona Meadows, Point Cook & beyond since 2013.
Our extended team of male & female instructors are internationally recognised black belts and develop their teaching skills through our structured Leadership program together with certified training. All instructors at the club are NCAS government accredited coaches & hold a current Working with Children (WWC) card.
Our Leadership program which is guided by Sensei Simon & Sensei Ellen, allows us to provide a good balance of instructor to student ratios ensuring students are always supported through their training. Most importantly, our team are fully devoted to working with every student including all ages and skill levels to bring out the best in everyone.
We invite you to give us a call on 0488 883 656 and book in for a free introductory class.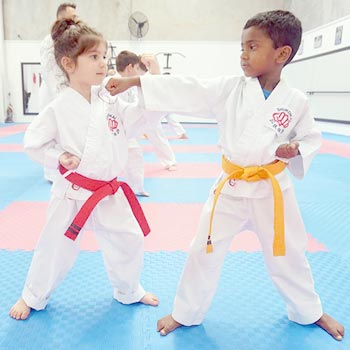 LITTLE SAMURAI
|

4-7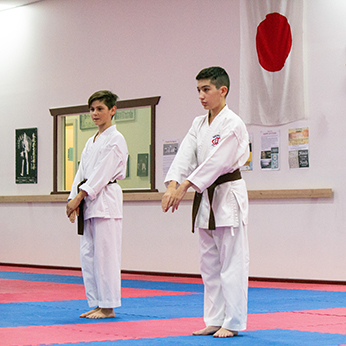 JUNIORS
|

8-13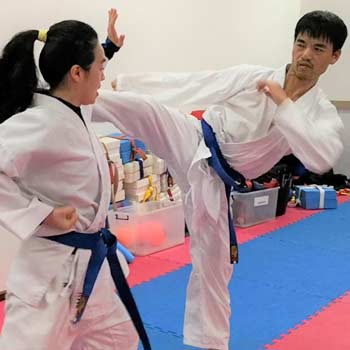 ADULTS & TEENS
|

14+
VIDEO
TESTIMONIALS
"Samurai Karate Laverton has been amazing with my 9 yr old son who has ADHD and he has been training there for about 3 years now, he absolutely loves it and asks everyday if it's karate day haha. I have seen how confident and how much strength he has gained since he has been training, the sensei are amazing and easy to talk to about his progress and I love how they run their classes. I'm so glad I made this choice to sign him up (he saw the ad somewhere and wanted to join) it has benefited him so much and I really thank this dojo for making it enjoyable for him to want to go back every week."
"We put our son in Karate at the Laverton dojo when he started Prep. We were looking for a sport that had a focus on discipline as well at fitness. This Dojo had great reviews and was conveniently located. 3 years later we are so happy with our decision. We love that it is a family run dojo who take great care and pride in both the quality of the classes and the environment. All the Sensei and team are so wonderful with the kids. When our son was having trouble at school his Sensei took time out to sit and speak to him after classes and offer him words of advice. There is a warmth and kindness from the staff that is accompanied by a real focus on discipline.  The kids are told very clearly when they are not doing the right thing or are being disrespectful. I think this is great. It's giving them training for the real world and what is expected of them. I've also made a number of very good friends in some of the other parents while we used to sit around and wait during classes (pre-Covid). There is a real kinship amongst the parents/carers. Everyone is very down to earth, genuine. I can't recommend this Dojo enough."
"Samurai Karate Laverton is a wonderful family friendly dojo. Our two sons have been attending the club since 2017 and the teachers/sensi are nothing short of exceptional. They are genuinely there to support, encourage and guide your child through their learning experience and offer discipled teaching in a friendly and supportive manner. The communication, organisation and adaptability of SKL is to be commended and we highly encourage anyone else seeking a karate school for their child to consider Samurai Karate Laverton."

Natalie & Maxwell Mitchell parents of Roman & Harvey
OUR
GALLERY
Our Samurai Karate Family is a community of people, committed to personal growth, for themselves & one another. Individuals who support one another and share in the journey, having fun, enjoying the development of success strategies along the way. When you join Samurai Karate, you'll find friends with like minded focus.
96 Triholm Ave, Laverton VIC 3028