WELCOME TO SAMURAI KARATE – SELF DEFENCE CLASSES KENSINGTON
Samurai Karate is a traditional Martial art well designed to meet the needs of our modern world. From a solid foundation, springs a well of physical, & mental abilities, that will serve you and your child throughout their life! Samurai Karate Sunshine has stood the test of time serving the community for over 40 years, contributing to the development of 1000's of students over the years.
YOUR INVITATION
KENSINGTON DOJO
Learning Martial arts in Melbourne is fun and provides lifelong benefits. You may think it will be a little intimidating jumping right into a class.
So, we invite you to come in for some private lessons with no obligation to join.
We will even fit you out in your own uniform to get started.
You will learn some basic skills and we can answer all your questions.
OUR
CLASSES
In Samurai Karate Kensington classes, you or your child will experience a dynamic program, designed to channel the student's energy and focus in applying their developing karate skills, in a supportive friendly environment. With time and consistent practice they will enjoy the fruits of their training, obtaining various levels throughout their development. As in the dojo (karate training area) also in life, the students development will transfer into success skills in everyday life.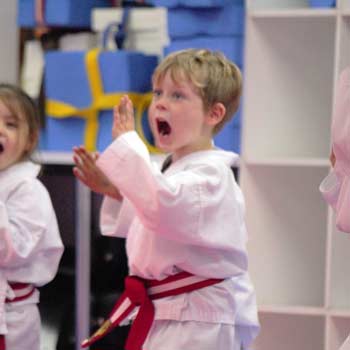 LITTLE SAMURAI
|

4-7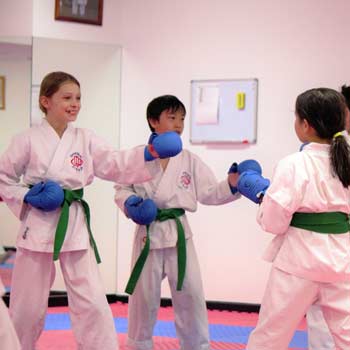 JUNIORS
|

8-14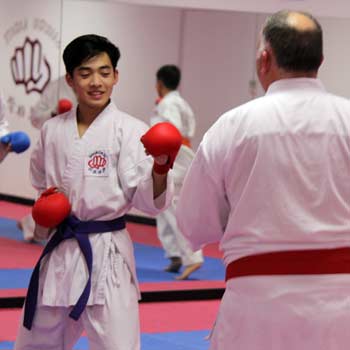 ADULTS
|

15+
VIDEO
TESTIMONIALS
Our three children (16 years old - Adult class; 13 years old and 10 years old - Junior class) train at Samurai Karate Kensington Dojo. 🥋 It has been over a year and they really love to attend. Sensei John and Sensei Darren are very patient and guide beginners step by step to the higher levels. Confidence, discipline, and focus they gained through the training are invaluable as well as many friendships developed over the years with fellow students. It's a happy place filled with positive vibes and energy. I often get greeted by Karate students perhaps because newbies think I look like Mr Miyagi in the Movie "Karate Kid." 😂😂
My daughter (4yrs) also started last year at the dojo. I can see by her facial expressions that she has so much fun. And although she's only 4yrs old I can already see the benefits she is gaining from karate. Sensei John and Sensei Darren have a very professional approach to their teaching. They have always given extra support to both my children whenever they have required help. I highly recommend Samurai Karate Kensington.
My daughter has been attending for 15 months and loves it. She has now moved up to the older kids class which is before the adults which means I now attend as well. The self defence aspect gives us piece of mind as we have 2 kids and our youngest will attend soon. After 2 ACL reconstructions this is a great way to strengthen my legs and is a solid workout.
I signed up at the start of the year and it's been the best thing I have ever done. The instructors and support staff are very supportive and easy to talk to and willing to help you however they can. I am not the fittest person around but that hasn't been an issue as my instructor encourages everyone to stay within their limits until they feel they are ready and capable of pushing a bit harder. Already I feel better all-round, so if you are looking to improve both your physical and mental health then I highly recommend signing up with Samurai Karate Kensington. After a tough day, either at work or at home with the kids, it's a great place to go. Not just for the work out but because it allows you to clear your head of everything else and just concentrate on what you are doing at that particular moment.
OUR
GALLERY
Our Samurai Karate Family is a community of people, committed to personal growth, for themselves & one another. Individuals who support one another and share in the journey, having fun, enjoying the development of success strategies along the way. When you join Samurai Karate, you'll find friends with likeminded focus.
ONLINE REGISTRATION –
SPECIAL
Sign Up today and get 2 Weeks Training + FREE Uniform only $49
191 RACECOURSE ROAD, KENSINGTON, VICTORIA