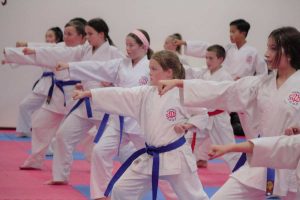 Every parent hopes to equip their children with skills to get them through life, particularly for the moments we are not around.
You hope they keep focused at school, keep physically healthy, and carry themselves with confidence to tackle life's challenges.
Building confidence & self-esteem are important for a child to grow up happy & secure with our services.
Parents feel frustrated because their child:
Lacks Focus or ability to follow instructions well.
Is shy, has low Self Esteem and clings to their parents.
Hates team sports and would rather play alone.
Has been the victim of Bullying and has lost complete Confidence.
Parents are experiencing amazing results with improvement in their child's Confidence and Focus because of Kids Martial Arts Australia CBD.
Even their child's school teachers can't believe the difference in the classroom! We have put together this amazing offer so every child has the opportunity to try Best Martial Arts For 4 Year Old with "no strings attached".We have added extra age-specific beginner classes at all centres Beginner classes for 3 – 4 yrs , 5 – 6 yrs, 7 – 12 yrs, Teens & Adults!.
FUN! FUN! FUN!
When kids have fun they learn more. Especially when it is a structured in a well-disciplined environment. They are learning to build a healthier body and mind. Sweating, Smiling, And Learning.
You'll discover a whole new level of self-confidence when you start taking self-defense classes because you'll be studying a systematic method of self-defense. Martial Arts Australia Being in charge of your body and understanding that you can better control those situations you perceive are "out of control" are the two most empowering for anyone, male or female.
Feeling excellent about your fitness is another clear view for enrolling in a defense course. You will only be aware of the tremendous fitness benefits you will experience while you enjoy learning new skills. You'll start to feel calmer, and your breathing will deepen over a few weeks.
When searching for a self-defense course, try to identify the main justifications and goals of what you hope to gain from it. You will be more successful in achieving your goals and objectives if you better understand what they are. Before enrolling in training, feel free to call and talk to their helpful staff.
The essential guidelines for selecting a Martial Arts Australia are the same whether you're a parent looking to enroll your child in lessons or interested in training yourself. Before choosing the ideal school and instructor, you must determine what benefits you hope to obtain from practicing martial arts. Let's tackle each stage individually.